Although my antivirus license hasn't expired yet, it has been automatically renewed
Symptoms
I have been automatically charged for the renewal of my antivirus license, even though it hasn't expired yet.
Situation
During the online purchase of your product, Panda Security informs about the Automatic Renewal Service via the following message:

By clicking the information icon next to Automatic Renewal Service, the follow message is displayed: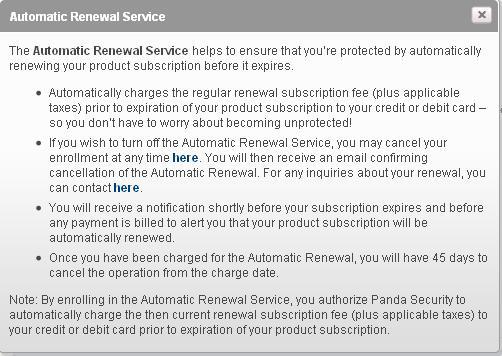 When the verification checkbox Yes, please, automatically renew my subscription when it expires is enabled, Panda Security renews your subscription automatically. Additionally, Panda Security sends an email notifying this automatic renewal two months before the subscription is about to expire. This email also includes the option to cancel the automatic renewal.
Since the renewal is not cancelled, Panda will charge the credit card used with the first payment one month before the subscription expires. Bear in mind that the renewal will start when the actual subscription expires, and not when the credit card is charged.
Nevertheless, if you still want to disable the automatic renewal of your antivirus product, please visit the automatic renewal page: