Error 0006:0907 when trying to activate the 2011 antivirus products
Information applies to:
Panda Global Protection 2011
Panda Internet Security 2011
Panda Internet Security for Netbooks
Panda Antivirus Pro 2011
Windows XP (32-bit Edition)Windows 7 (32/64-bit Edition)Windows Vista (32/64-bit Edition)
Symptoms
This error is returned when activating the product on different computers: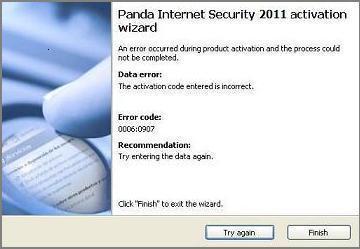 Solution
To prevent this error in activations after the initial activation, follow the instructions below:
Enter the activation code and email address in the activation Wizard. Push Try again.
In the next screen, when asked if they are a Panda Security client, they should reply "Yes", as indicated below.



Enter a customer numbrer indicate in Welcome email.
This will ensure the product is correctly activated in the second computer.